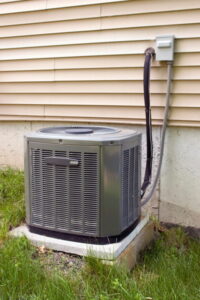 When it's time to install a new air conditioner in your home, you may be shopping around for the best option. Heat pumps are increasing in popularity for a variety of reasons. If you are interested in heat pump installation in Campbell County, WY, our team is here to help. In the meantime, you can keep reading to learn more about how a heat pump system works and the benefits of investing in this type of system.
How a Heat Pump Works
A heat pump offers both heating and cooling all in a single system. When you have a heat pump, you do not have to have a separate air conditioner and heater. During the summer, your heat pump works by filtering air in, removing heat, and then blowing cool air into your home while releasing the heat and humidity outside.
When you switch the heat pump over to heating mode, it does the opposite. Then the system pulls in heat from the outside to provide warm air for your home. That's right, even on the coldest days of winter, there is still some heat in the air that can be transferred into your home. Each heat pump system has a switch that allows it to go effortlessly between heating and cooling.
Benefits of a Heat Pump System
The greatest benefit of a heat pump is its energy efficiency. Since it doesn't have to create heat or cold to bring into your home, it is simply transferring energy. This is much easier and therefore a heat pump requires less energy to operate compared to other heaters and air conditioners.
Of course, all new air conditioners are expensive upfront to install. But when it comes to affordability, heat pumps are at the top of the list. They can be much more affordable to install than other types of systems. You can even take your savings and reinvest in a heat pump with even higher SEER2 and HSPF2 ratings to ensure the best energy efficiency available. 
You can also expect your heat pump to last for a long time to come. The average lifespan of a heat pump is around 10-15 years. Plus, heat pumps are better for the environment. When you invest in a heat pump, you can do so with peace of mind that you are making a great environmental choice for your home and community. 
It's also worth mentioning that heat pumps do require biannual maintenance. Some homeowners see this as a downside, but it's really no different than having a separate air conditioner and heater. If you have a heat pump HVAC system, you are scheduling annual maintenance once for the system as an air conditioner and once for the system as a heater. If your systems were separate, you would still be scheduling the same number of maintenance appointments each year.
Schedule an appointment with the team at Climate Solutions, Inc. The trusted source for all your heating and cooling needs.