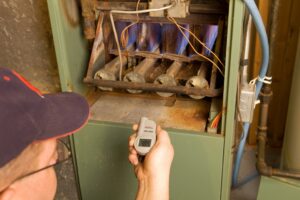 There are many people who have the attitude that if it's not broke, don't fix it. But this rule does not apply to major home appliances like your furnace. After all, your furnace could have a small problem that you wouldn't even know about unless you scheduled a check-up. You do in fact want to be proactive and fix things before they are obviously broken. 
So when it comes to your furnace, even if it is not showing signs of problems, you still need to schedule regular furnace maintenance in Campbell County, WY. In fact, doing so could actually save you a lot of time and money. Keep reading to learn more about the many benefits of furnace maintenance and how this service can help your home and family.
Face Fewer Repairs
Maintenance appointments are for repairs, right? Sort of. A tune-up is a time to make minor tweaks and address things that are beginning to go wrong inside your furnace. We really consider a service to be a repair when something is going wrong with your furnace, and repairs are usually more expensive compared to maintenance. 
A furnace tune-up is how you get ahead and stay ahead of repairs to bypass surprise breakdowns later on. Yes, heating maintenance costs money, but it's really an investment more than an expense. A tune-up will cost you much less than repairs could be later in the season or even in a few years. Plus, you have the added benefit of scheduling a heater tune-up around when it is convenient for your schedule instead of scheduling a surprise appointment due to a total breakdown.
Heating Efficiency
You don't just want your heater to keep your home warm and comfy. You want a furnace that will warm your home efficiently to lower costs. After all, heating your home can be a very expensive endeavor if you aren't careful! When your furnace works efficiently to provide heat, your monthly energy bills cost less overall.
Plus an efficient furnace saves wear and tear on all of the parts that work together inside the system. As time goes by, your heating components naturally wear down and lose some efficiency, costing you more each year. Tune-ups ensure that you maintain as much of that efficiency as possible instead of damage becoming irreversible.
Extend the Potential Life
First, it is important to say that anything could happen to your heater. Even with the best care sometimes things happen and furnaces stop working. But maintenance is the best bet for adding years of life to your furnace. Most heaters last anywhere between 10-15 years. 
The main difference in that rather significant gap is having a professional check on your system once each year. Our professional heating technicians have an eye for furnace problems and can fix them as they are just beginning to prevent worse issues.
Elevated Safety
When your heater wears down as years pass by, individual components inside your furnace can pose major safety risks to your home and family, even while your heater is still operational. This is true for electric furnaces as well as gas furnaces. 
It's equally dangerous for electrical components to wear down as it is for gas connections to wear down and potentially leak carbon monoxide. A cracked furnace can leak carbon monoxide into your home. When your furnace receives an inspection annually you can rest assured that your furnace is safe to operate and doesn't pose risks to your home or family.
More Comfort
Aside from ensuring safety and saving money by staying ahead of repairs, we know that comfort is high on the list of priorities. Sometimes you just plain want to be comfortable on those coldest days of winter! An efficient furnace that doesn't have any hidden issues will always provide more comfort to your home.
Schedule an appointment with the team at Climate Solutions, Inc. The trusted source for all your heating and cooling needs.