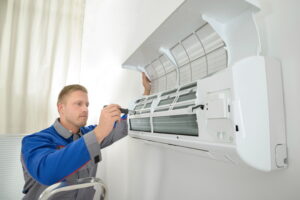 If it's time to install a new air conditioner in your home, you may be considering a ductless option. More and more homeowners are switching over to ductless mini split heating and cooling systems as opposed to a central air system that has ductwork.
The good news is, we are experts at installing ductless mini splits in Campbell County, WY. We can also help you with annual maintenance and any questions that you have over the years after installation. You can keep reading to learn more about the benefits of a ductless HVAC system and then give us a call for your in-home assessment.
Costs and Savings
It is important to understand that a ductless mini split HVAC system can cost more upfront for installation. This is because you are essentially installing a mini air conditioner in each room or zone of your house. 
But the additional expense evens out over time when you consider the potential energy savings that you can enjoy. Experts estimate that you can save up to 50% on your monthly energy bills by switching to a ductless HVAC system. In fact, the savings could eventually outweigh the upfront costs so that you are actually saving more over the life of a ductless mini split versus a more traditional cooling system.
You also want to think about the fact that you can replace an individual air conditioner in your home without overhauling the entire system. If only one AC goes out and the others are still in great shape, you don't have to replace them all. Just replace the one that stopped working and keep the rest in place.
Improved Comfort
It is not unusual for each family member to have their own temperature preferences. Even a few degrees can make a big difference when it comes to feeling comfortable. You may have one person who likes their space to be warmer, while another person likes their space to be cooler. With a ductless mini split system, everyone can maintain a unique temperature in their own room or zone.
Stop battling over who gets to set the temperature on your home's thermostat and let everyone control their own individual zone instead. Just make sure that you keep doors shut so that air does not escape and move between rooms
All-In-One Heating and Cooling
It's even possible for one room to be set on heat while another room is set on cooling at the same time. This is because each mini split unit operates using a heat pump, so it can switch effortlessly between heating and cooling modes. You won't have to install a separate heater when you invest in a ductless mini split. When the seasons change you can simply change the settings on each of your mini split units and you're ready for the weather, no matter how hot or cold it gets.
Schedule an appointment with the team at Climate Solutions, Inc. today for ductless HVAC installation. The trusted source for all your heating and cooling needs.