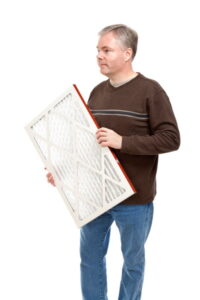 We know that you may feel like there are plenty of other more important parts in your heating system in Gillette that you'd rather pay more attention to. A motor belt or a fan seem far more vital to your system's operation than a simple filter. But keeping your filter in good shape can make a world of difference for those other parts.
Think of it this way. Paying attention to the condition of your filter and changing it regularly can be one of the easiest and most affordable ways to keep the rest of your system in prime condition. It might sound too good to be true but this is a reality that too many people forget!
Let's discuss all the details that you need to know about your system filter, when to change it, and why it is an important team player for your home comfort.
Why Your Filter Is an Important Part of Your System
The filter is often underestimated by homeowners in our area and beyond. This seemingly small part of your system is responsible for keeping dirt, dust, and other debris out of the internal components of your heater. In doing so, the filter is going to help keep your heater running effectively and efficiently. It can even play a hand in preventing some of the repairs your system would need otherwise.
Checking Your Filter Is a Good Habit Year-Round
We encourage everyone to check their heating system filter regularly. This is because it doesn't just benefit your heating system–it benefits your air conditioner too. Keeping a clean filter in your return air duct for your HVAC system is going to ensure you get optimal warmth in the winter and optimal cool air in the summer too. Start building the habit of checking your filter regularly in order to make sure it stays clean.
When To Replace Your Filter
Checking your filter is important largely because it lets you stay on top of when you need to change your filter too. How do you know when to change it though? We'd advise changing it every one to three months, depending on the use of your system and the quality of the air in your home. If you aren't sure about your filter change timing though, we'd say that being able to see dirt and debris layered on the filter is a strong sign that you need a filter change.
Maintenance and More With Our Team
Filter changes are important but they are just one part of the comfort puzzle. When it comes to keeping your heater (and your AC system) in prime condition, you need to work with a professional team like ours to ensure your system gets good maintenance, repairs, and more. We are the experts in our field so you can always rely on us to provide the service you need.
Contact Climate Solutions, Inc. for your heating system service needs. The trusted source for all your heating and cooling needs.