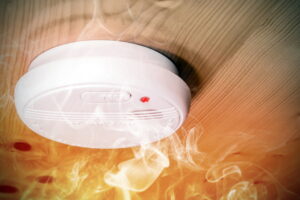 Modern heating systems are made to be as safe as possible. However, this doesn't mean that they will always remain that way. Your heating system is built to run effectively, efficiently, and safely but it can become unsafe due to the stresses of age and regular usage. We tell you this not to worry you but to ensure that you are aware of what can happen with a system that is struggling.
Our goal is to make sure you can stay warm and safe throughout the coldest months of the year. Our heating services in Gillette, WY are able to keep your heater as safe as possible. However, it is best to do everything possible to keep your heater, your home, and your health, safe.
4 Safety Tips to Remember This Season
Make sure to stay on top of your safety when running your heater over the next several months. Here are some tips to take into consideration:
Check your smoke and carbon monoxide detectors. The biggest and best tip we can offer is to make sure your smoke detectors and carbon monoxide detectors are in working order. Do a test run of these detectors to make sure they are responding and that the batteries don't need to be replaced. You can always have one of our technicians help you with this.
Keep the area around your furnace or condensor unit clear. The space around your furnace or condensor unit needs to be kept clear of any debris. Sticks, leaves, and other debris near your condensor unit can make it hard for your heat pump to pull heat into your home. As for your furnace, debris too close to this system can actually present a fire risk. Make sure to keep at least two feet of clear space around your furnace.
Check and change out your air filter. Air filters are made to help keep dirt and debris out of your furnace or heat pump. One of the best things you can do for your heater is to keep this part of your system clear. That way it can continue to protect your heating system rather than hindering airflow and increase the chance of a repair need..
Know what to do in case of a gas leak. Lastly, if something doesgo wrong with your heater that results in a gas leak, it is good to know exactly what to do. If you smell the scent of something sulfuric or that smells like rotten eggs, turn your heater off and evacuate the house. Call emergency services to check the house and make sure it is safe to enter again. Once you have done everything possible to keep yourself and other safe, reach out for repairs to prevent the problem from getting worse.
When it comes to keeping your home warm, it shouldn't cost you the ability to stay safe. Use these tips to keep yourself and your home safe this season. What's more, keep your heater in its safest possible condition with yearly maintenance provided by our technicians.
Contact Climate Solutions, Inc. for expert heating services that will keep you safe and warm. The trusted source for all your heating and cooling needs.